Your Moving Partners
Act of Class Moving is a family owned Fort Myers Moving Company based in Florida. We have over two decades of experience in residential moving, local moving, commercial moving, office & cubicle moving – across states and statewide in Florida. We offer the best of packing facilities for your valuable goods, electronic goods, jewelry and antiques.
Our in-house team and licensed moving professionals have more than 20 years of combined industry experience.
Act of Class is a Moving & Storage Company with access to over 40,000 sq. ft. of climate controlled storage in Southwest Florida and also provide full service as the most trusted Naples moving company and best moving company in Fort Myers. Due to our strong hold on Storage options, we offer reduced costs on the same to local movers.
Our team also includes moving consultants with special expertise in Local Moving Services. And that is the reason, we are very confident about offering Moving & Storage Services to – Sanibel Island Movers, Bonita Springs Movers, Naples Movers, Marco Island Movers, Fort Myers Movers, Estero Movers, Sarasota Movers etc.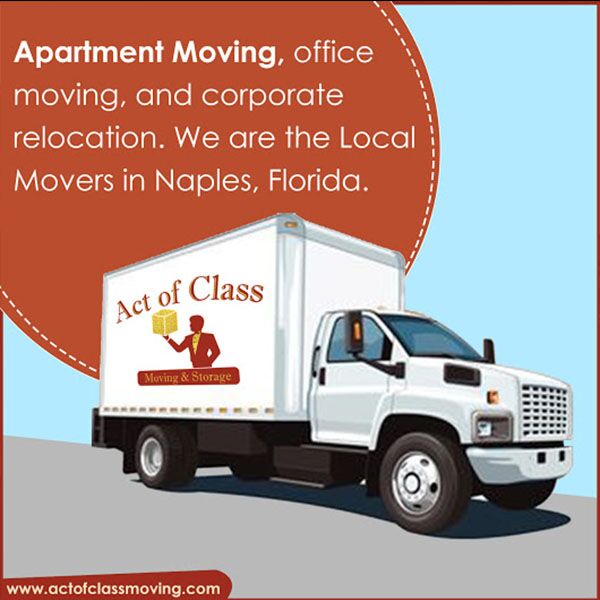 Why Choose Us?
Whether you are seeking local movers who can move you in the Fort Myers area, short haul relocation to the east coast or to another destination in Florida, you can count Act of Class to deliver.
We specialize in household moves, Apartment Moving, office moving, and corporate relocation. Additionally, we also provide speciality services, to include Piano Moving, appliance moving, custom crating and packing. Relocation with our Fort Myers Movers will be handled by one of our professional moving consultants, who will be your primary point of contact throughout your moving process. Communication is key, and if you ever have a question please contact us.
Questions?
Speak with one of our consultants today.
Proudly serving Fort Myers, Cape Coral, Naples, Florida & surrounding cities
★★★★★
The team from Act of Class did an AMAZING job with my recent move. They worked quickly and efficiently, but what I appreciate most was their patience and flexibility when overcoming issues. I would 100% recommend!
★★★★★
I recently moved and after speaking with several moving companies I chose Act of Class! I was a good decision! They communicated their time of arrival. The owner came over first to give me an estimate and was professional and courteous. Three men arrived and immediately began to wrap all of my furniture to protect it from damage. They moved fast and knew exactly what they were doing. They were courteous and considerate. In 5 hours they transported furniture and my packed boxes from 3 bedrooms, living room, dining room2 baths and kitchen. They packed my lamps and my wardrobe. I enjoyed their presence, and would recommend them to everyone!
★★★★★
We've used them 3 times in the last several uears. Highly recommended. Fair, guaranteed price up front. We had one object broken and they replaced it. Some minor furniture blemishes were professionally fixed. All included in the original price.
★★★★★
We picked this company after the first one we picked failed to show on time and then failed to show completely after being almost 4 hours late. (Check review history to see who!) The movers were prompt and punctual and also extremely nice - Kenny and Jeremy. They fulled moved and set me up from one place to another in less than 2 hours. Amazing service!! I would absolutely recommend this company to anyone looking to move. They were able to help extremely last minute and were incredibly professional. Great company and an excellent set of movers, thank you.